With holiday season just around the corner it's getting time to gather a few presents for your loved ones (or why not even treat yourself with something nice). Running this blog it's obviously no secret I've completely fallen for the Southwest and everyhing that relates to it in some way. I love to surround myself with things that remind me of this very special southwestern vibe. With Christmas coming soon, I thought it might be a nice idea to create a list with some of my favorite things that will bring the Southwest into your home. So here's my 2020 holiday gift guide for the US Southwest Lover, it might even be you. 😉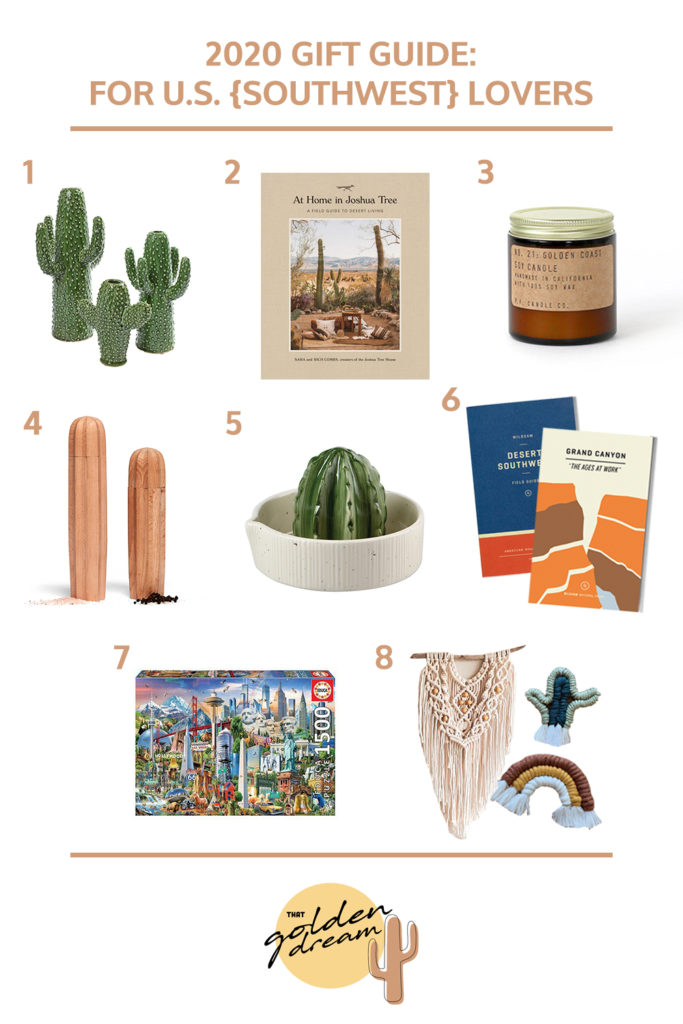 GIFT IDEAS FOR THE US SOUTHWEST LOVER
1 – Serax Cactus Vase
I love cacti in every shape and form so of course they're part of my interiors. While real plants (even cacti) need enough water, light and care, Serax' cute cacti vases are perfect for cacti lovers even if they're not blessed with a green thumb.
2 – At Home in Joshua Tree Book
Way more than just a pretty coffee table book "At Home in Joshua Tree" is a field guide to the desert as well as it is a book for interior and design lovers. Capturing the beauty of the high desert the book is a mindful inspiration on how to bring the desert lifestyle into your own home.
3 – P.F. Candle Soy Wax Candles
Baking in the desert sun, hiking through canyons, the pacific's sea salt in the air – what better way to feel this atmosphere than just adding some of these scents to your home? Lighting one of P.F. Candle's soy wax candles is a great cure for emerging Southwest-longings.
4 – Saguaro Cactus Salt & Pepper Grinder
The giant Saguaro Cactus is the symbol of the Southwest. DOIY Design used its iconic shape to create beautiful wodden salt and pepper grinders (also available in green). They'll definitely be eye-catchers in every desert-lovers' kitchen.
5 – Cactus Juicer
Another fun item from DOIY to bring the desert into your home is this cactus juicer. I love the simple design and it's definitely a kitchen appliance that will look pretty on every open shelve.
6 – WILDSAM Field Guides
Wildsam field guides aren't your average travel guides. The books are designed to let you truly connect with a place by telling its stories and giving cultural insights that let you understand it. And did I mention the unique layout? So, so pretty and way more creative than regular guides.
7 – USA Puzzle
I rediscovered puzzles through quarantine this year. In fact it's the perfect activity for cozy winter evenings at home. Put on some sweatpants, enjoy a cup of tea (or a glass of wine) and just get lost in assembling the pieces of american landscapes in front of you.
8 – Macrame Art & Ornaments
I recently discovered Jess' beautiful macrame art via Instagram and instantly fell in love with her cute cactus and rainbow ornaments. Searching for the perfect macrame wall hanging for quite some time, something felt just right and I finally placed my order. Her etsy-store is filled with adorable items, perfect for all the boho-lovers out there.
I hope you found some pretty inspirations in this 2020 holiday gift guide for the US Southwest lover. What's on your wish list and what are you giving to your loved ones this year?