Sticking to a vegan lifestyle while traveling in foreign countries can be quiet challenging at times. Especially if you think about food in the United States. Instead of healthy vegan food what pops into your mind first possibly are meaty meals and greasy fast food. This is a very common misconception though of what is actually offered out there and eating vegan food in the US is way easier than you think.
So instead of ditching your diet and beliefs while traveling the US, here are some recommendations to help you enjoy plantbased food on your next american adventure.
You're a vegan? Here's how you eat plant-based food while traveling the USA
Plan ahead and keep an open mind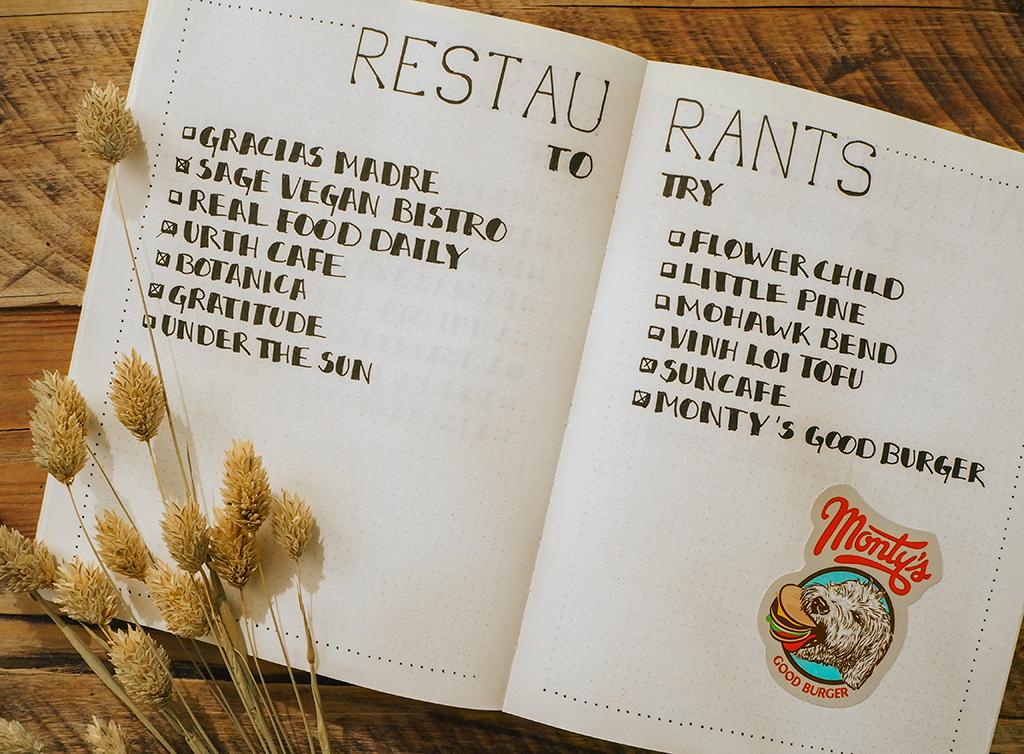 This might sound like a pretty obvious tip, but it is super important. Believe me, the last thing you want, is to wander around with an empty stomach hungry and grumpy, not finding anything or anywhere to eat. If you want to eat vegan food while you're traveling in the USA investing some time in planning and research before you go on your trip is a very smart thing to do. It not only saves you time, energy and probably money, it also makes your trip way more relaxed, just because you'll have some options up your sleeve. Of course that doesn't necessarily mean you have to stick to them. Honestly, I always enjoy planning ahead a few details of my upcoming trips. After all, anticipation is half the fun, right?
Look out for organic grocery stores and farmers markets
Organic grocery stores often offer prepared but still very fresh and delicious lunch options. Traveling the USA as a vegan they are a great place to turn to while looking for good quality food. Whole Foods or Sprouts for example often contain deli areas including salad bars and plant-based hot food you can mix and pay per pound. I had some pretty amazing tempeh-sandwiches and vegan pasta or rices dishes. The variety of the food is huge and free of artificial flavors, colors and preservatives. Especially on roadtrips stopping by organic grocery stores or checking out local farmers markets are very convenient and affordable options, as long as you have some bigger cities en route. Chances of finding vegan food options increase immensly with the size of the city.
Get access to a kitchen
Being out exploring the United States you're probably trying to travel light and with just the basics. Sometimes though just a little upgrade turns out to be very beneficial, especially for vegan travelers.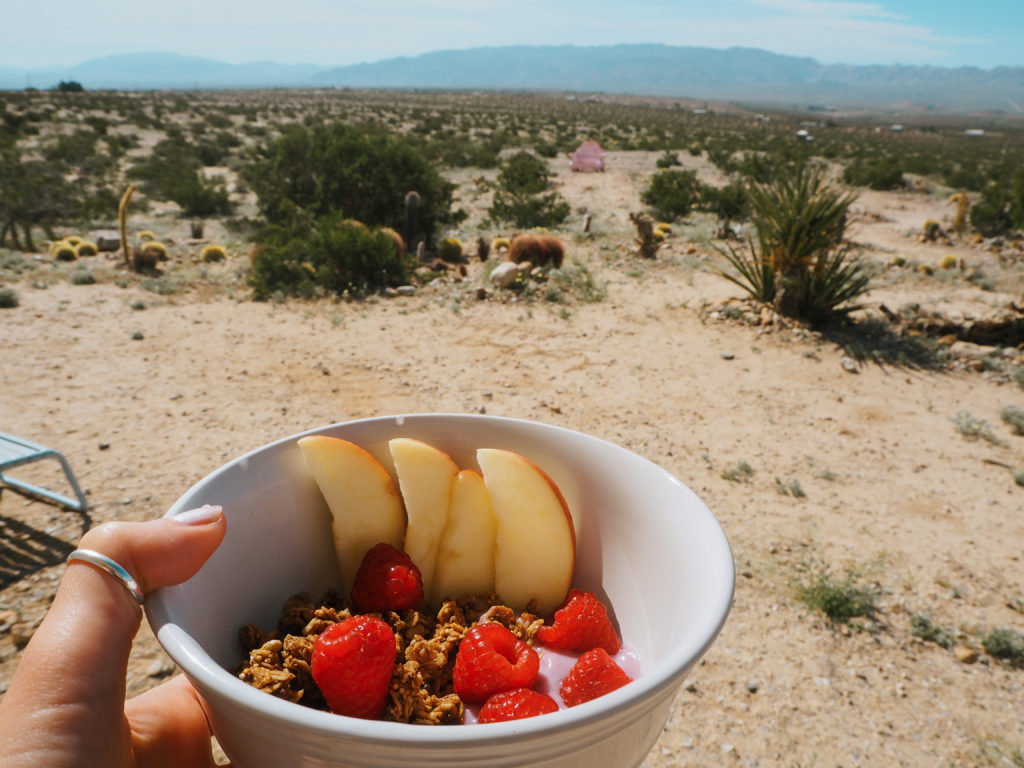 Having access to a kitchen (or kitchen equipment while camping) allows you to prepare your own comforting meals. You just have to be down for the little extra time and effort it takes while being on vacation. I'm always looking forward to the infinite aisles of american grocery stores and discovering all the different vegan products, I would never find at home. After all a comforting dinner, cooked in a cozy AirBnB apartment can be exactly what you need after an adventurous day.
Whenever I book a night in a motel, I try to make sure the room offers a microwave. While it might not be the most delicious, let alone healthiest, meal there is, there's a good selection of even organic and vegan microwave dishes. Particularly on roadtrips coming along places where you just stop to get some sleep, this saves you the trouble of finding a suitable restaurant.
Don't shy away from fast food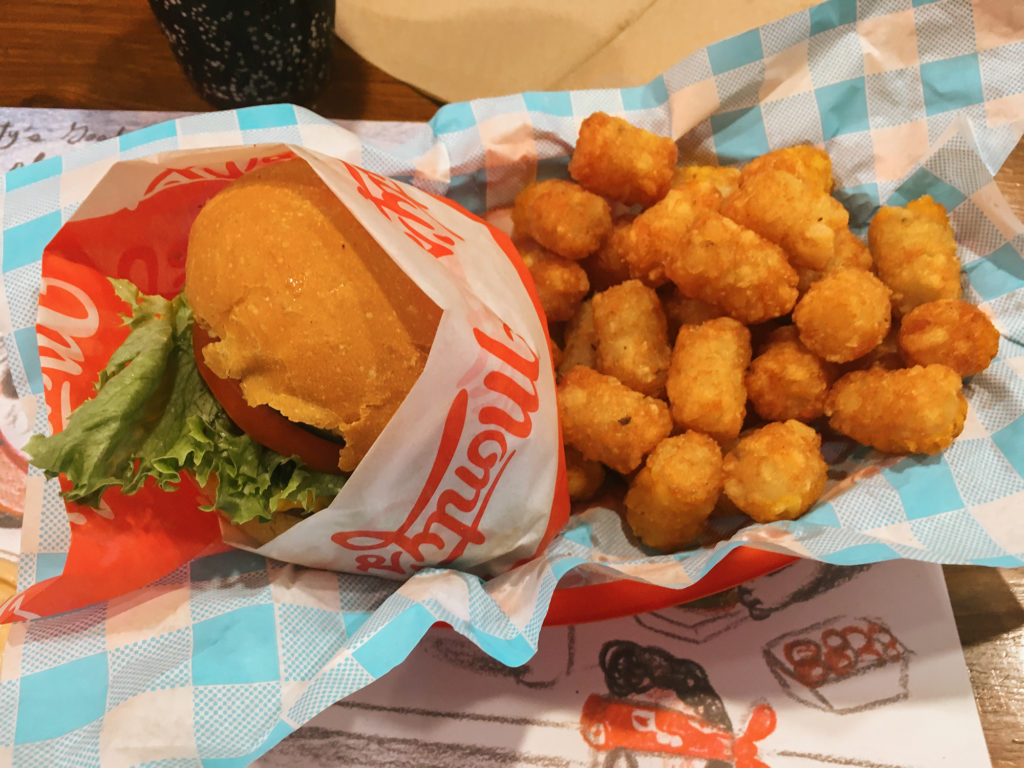 Being a vegan you possibly already said goodbye to fast food. Traveling the USA I highly recommend you to make an exception. Otherwise you would miss out on some pretty amazing vegan burgers (or even hot dogs). Plus, why limit your choices if there's plenty of good quality, easy to find vegan fast food in the US?
In addition to regular fast food chains like Denny's, Carl's Jr. and many others that added vegan options to their menus it is also possible to feed your vegan fast food cravings in entirely plant-based places like Monty's Good Burger (the best!) or Plant Power Fast Food. And let me say it again, especially the latter present such good quality the meals are simply delicious.
Even in regular restaurants vegans can order more than just a salad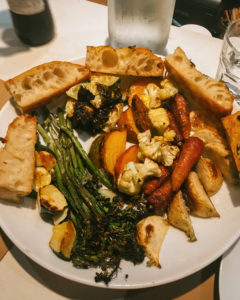 Even though the restaurant is not advertised as being vegetarian or vegan, there probably are many things on the menu for you to order, if you keep an open mind. Restaurant staff in the US is super friendly and really relaxed about special dietary requests.
You might have to explain what vegan exactly means, since not everyone is completely familiar with the term. You definitely don't want to be surprised by a cheese-free Pizza full of Pepperoni. Once that's clear you can totally ask for small adjustments to the menu or simply order a variety of plantbased side dishes to create your own meal. As a vegan dining out, you probably are already familiar with that anyways. I'm so used to bothered and annoyed restaurant staff while trying to order plantbased in non vegan places. This rarely ever happened to me dining in the US.
The times in which vegan food is impossible to get while traveling are long gone. If you keep an open mind and you're willing to adjust and plan ahead it is super easy to enjoy vegan food no matter where you are. Feel free to share your experiences with vegan food in the USA in the comments below. How do you survive on a plant-based diet while traveling?