Sunny, energetic, colorful and ultra glamourus – this is how I would have described Miami prior to my first visit. Looking more closely and experiencing the city for a couple of days, there is way more to be said about the metropolis on the southern tip of Florida. From delicious vegan food and tropical beaches to exploring urban street art and stylish fair fashion – here is a conscious travel guide to discover Miami.
You're interested in traveling mindful? Here's a Conscious Travel Guide to Miami
To be entirely honest, Florida, let alone Miami were never really high up on my bucket list. When, in 2018, I got the chance to join my boyfriend on his work trip to Miami I didn't have to think twice though. I love the US and I totally plan on seeing and experiencing every single part of the country at least once. As the trip was scheduled right in the middle of july, the flights were rather expensive and the weather conditions weren't exactly ideal, as it gets hot and humid during summertime in Florida. You might want to take this into consideration while planning your trip. The best time to visit Miami probably is between march and may as the temperatures are warm but not too hot.
Despite the tough temperatures and downpours every once in a while, I had a pretty great time in and around Miami. It might not have become my favorite destination ever, but by discovering the city more closely I lost many preconceptions. There actually is way more to Miami than fancy glamour, so now I'm sharing my conscious travel guide with you.
Where to stay?
DOWNTOWN / BRICKELL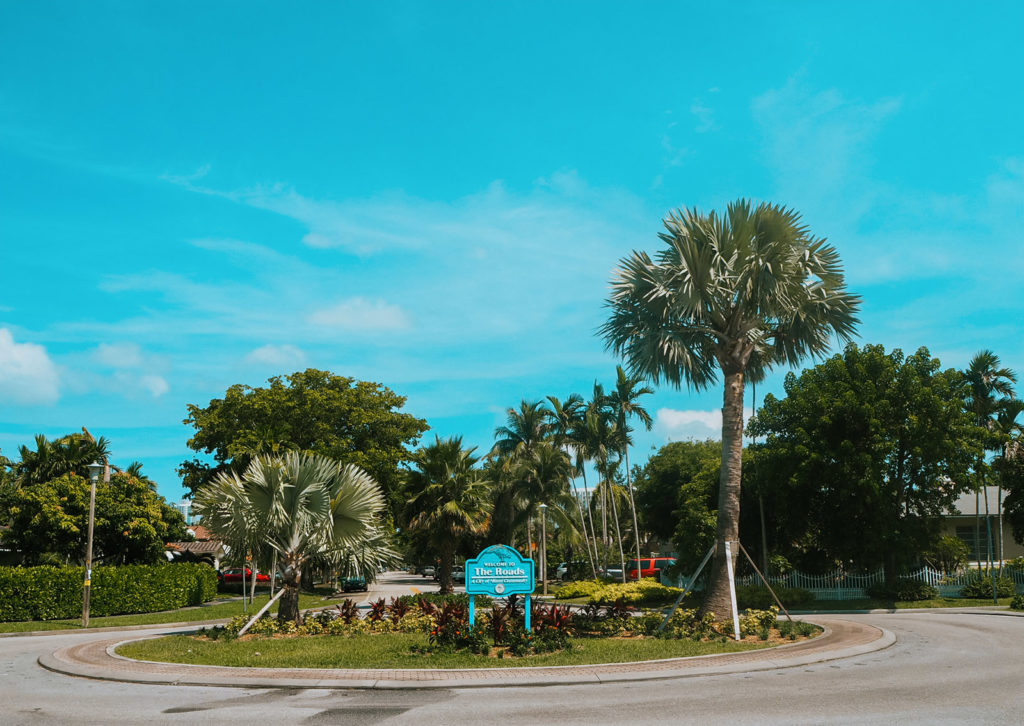 Exploring new cities, especially traveling alone, I really like the experience of staying with locals in a nice and cozy apartment, that can feel like a home away from home. Airbnb can be a great option if you're looking for affordable but still comfortable and stylish places to stay. For the most part of the trip I booked a room in downtown Miami very close to Brickell. I had a private room with my own bathroom and fridge, so I was able to prepare snacks and breakfast. The couple I stayed with was super nice and they even prepared a vegan breakfast on the weekend, plus they had a super cute little dog. I really enjoyed the area as well. It was centrally located but still very quiet and relaxed as the house is situated in a residential neighborhood. If you're interested go and check out their listing on Airbnb here.
HOLLYWOOD BEACH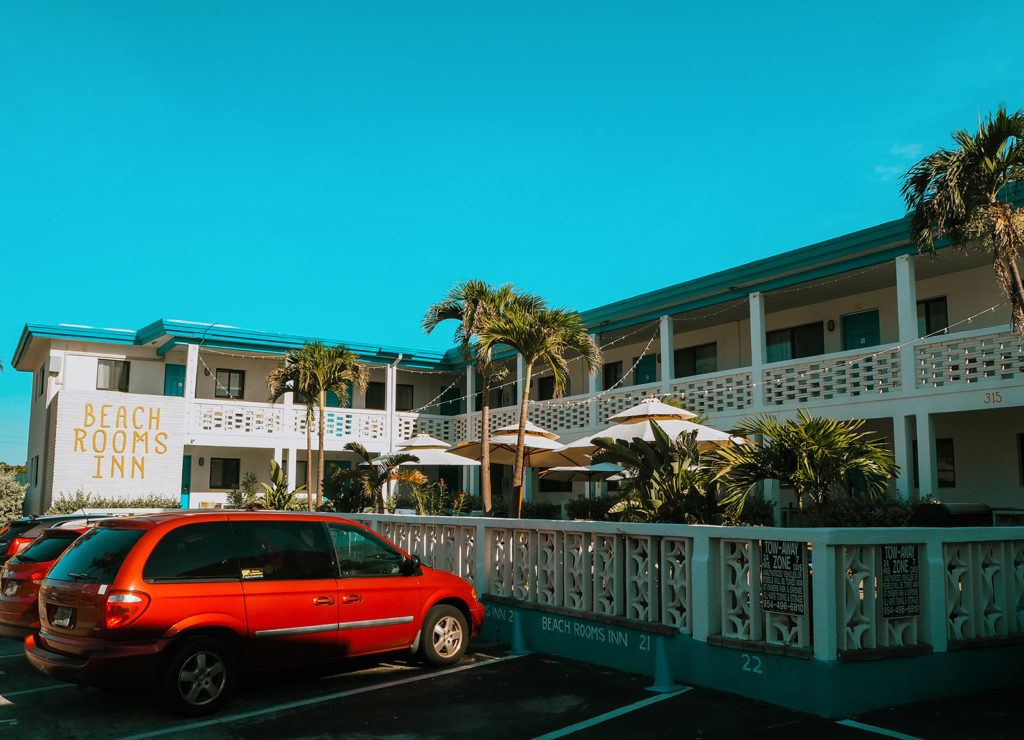 Before my boyfriend had to start working we spent a couple days in Hollywood, a small but very cute beach town only half an hour north of Miami. One of my friends recommended the place and we really enjoyed staying there. The beach was super nice, not crowded at all and the motel we chose was cute and close to the coast. I definetely could have stayed longer, just to enjoy the beach and pretty views.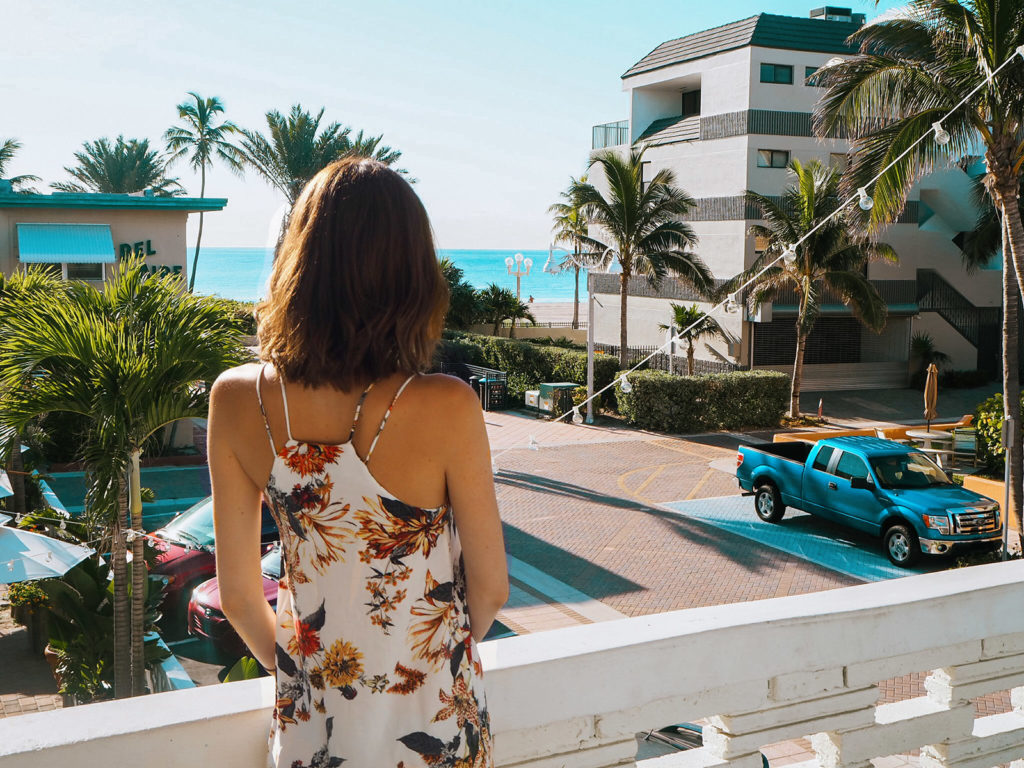 Where to eat plant-based in Miami?
Miami is not only a great destination for sun seeking beach lovers. If you're a foodie like me, you'll find tons of delicious food all across the city. There's a huge culinary diversity and as this is a conscious travel guide to Miami, I'll give you a list of my favorite vegan food spots.
CURE CAFE
This lovely little cafe located in Brickell, might be hard to miss, as it is situated between a spa and fitness center without outside seating or anything like that. Getting inside is definitely worth it though. The staff is super friendly and the food is entirely organic, gluten-free plus you'll find many vegan or vegetarian options. After I went there for a delicious lunchbowl and wrap we went back there for breakfast one morning and weren't disappointed. They serve super delicious smoothies as well. So don't get fooled by the rather modest appearance of the cafe, it really is worth a visit.
DR. SMOOD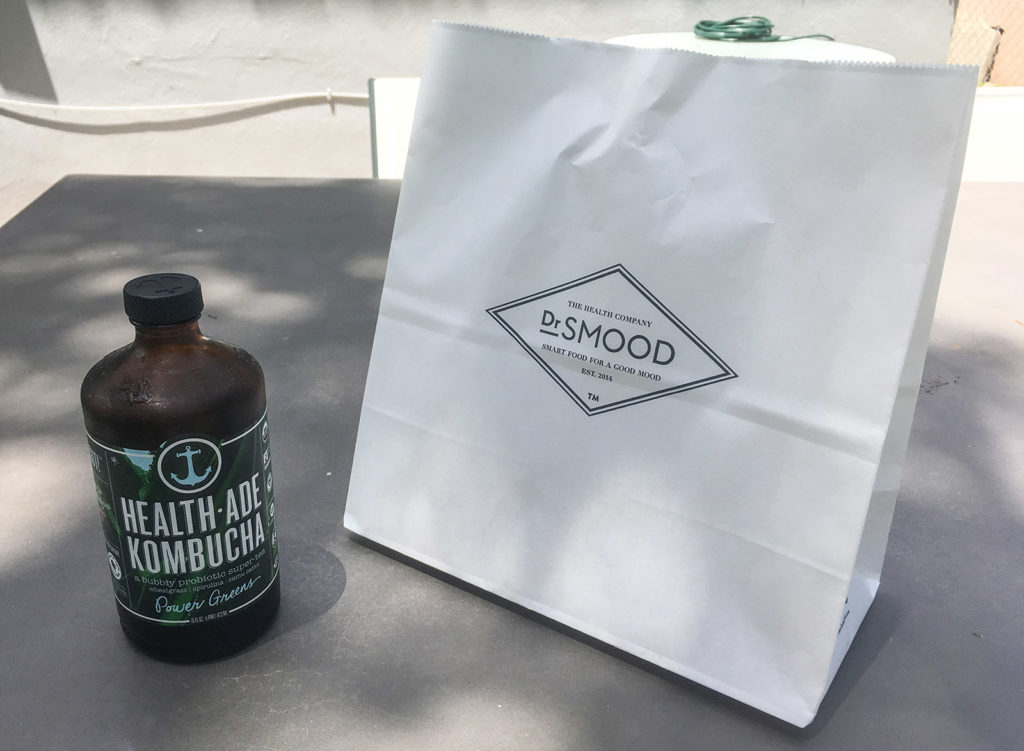 Healthy, fresh and super stylish – Dr. Smood is one of those places where you'd love to try everything on the menu, It isn't entirely vegan though, which is probably for the best, as food and drinks are rather pricey. The choice of plant-based food, no matter if you want something for breakfast, lunch or dinner is pretty divers and definitely worth the money. There are actually six locations all around Miami. I went to the one in Wynwood twice and wasn't disappointed. Check out all the locations on their website.
If you're into healthy drinks and those popular, but super expensive immune booster shots, Dr. Smood offers a lot of these as well. I decided to go with my favorite Kombucha as you can see in the picture above.
MILAM'S MARKET
As I mentioned in my blogpost on how to find vegan food while traveling the US, organic grocery stores are a great option if you're looking for an affordable but still healthy and delicious meal. Spending a lot of the time in Miami on my own during the day, I didn't want to dine in restaurants too often. So I did some research and discovered this awesome organic store not too far from my apartment. At Milam's Markets (there actually are five locations in Miami) you'll find everything your vegan heart might desire. Their deli departments offer a big selection of freshly prepared salads and bowls but you'll also find cut fruits, vegan snacks and microwave meals. I went several times to the location in Coconut Grove and was so glad that my apartment provided a fridge. That way I could store my bowls and salads and have food for more than just one day.
What to see and do?
Just in case I didn't mention this – It was super hot and humid while we were in Miami. This kinda limited or at least affected the activities during our stay in Miami. Walking around outside was more or less narrowed down to the earlier or later hours of the day. The inbetweens were either spent at the beach or in airconditioned buildings. As there definitely is a lot to explore in Miami here are my favorite things to see and do.
VIZCAYA MUSEUM & GARDENS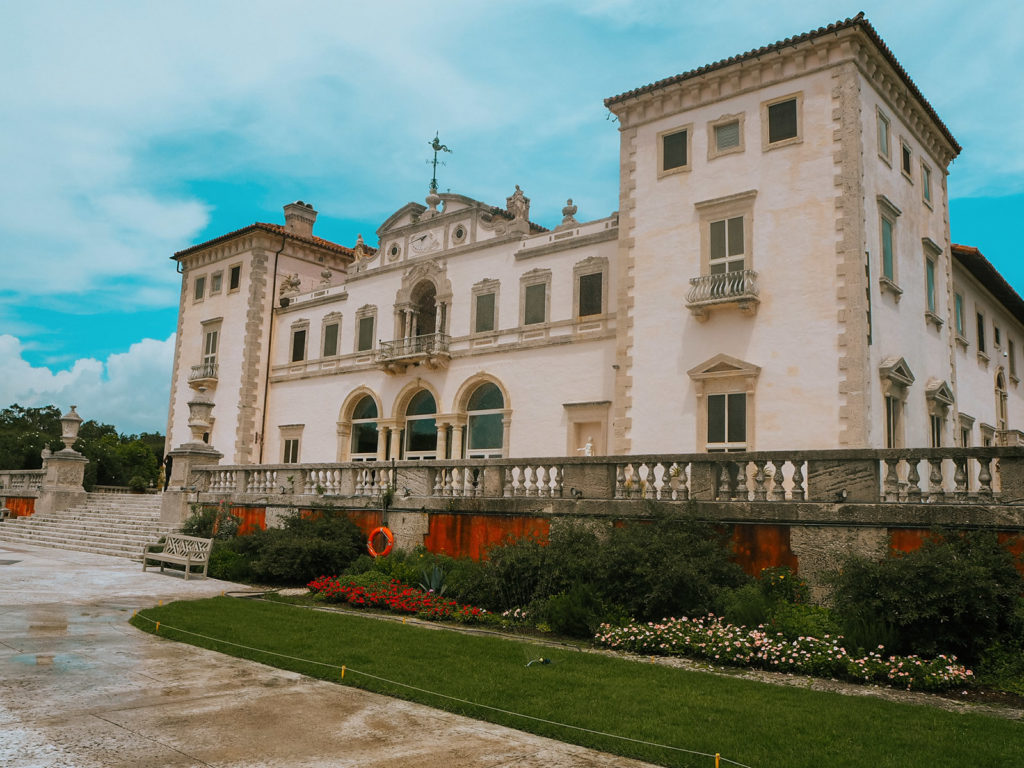 There can't be a conscious travel guide without some culture and history. As I am a plant and garden lover I decided to visit Villa Vizcaya and wander around the impressive tropical garden area. The estate is located in Coconut Grove and is worth a visit if you're an architecture enthusiast or plant friend like I am. The mediterranean villa is pretty popular and attracts many visitors, so I recommend to go early in the morning to avoid the crowds. You can easily spend lots of time in the building and the surrounding gardens. Take your time and don't forget your camera. You'll encounter many picture perfect views.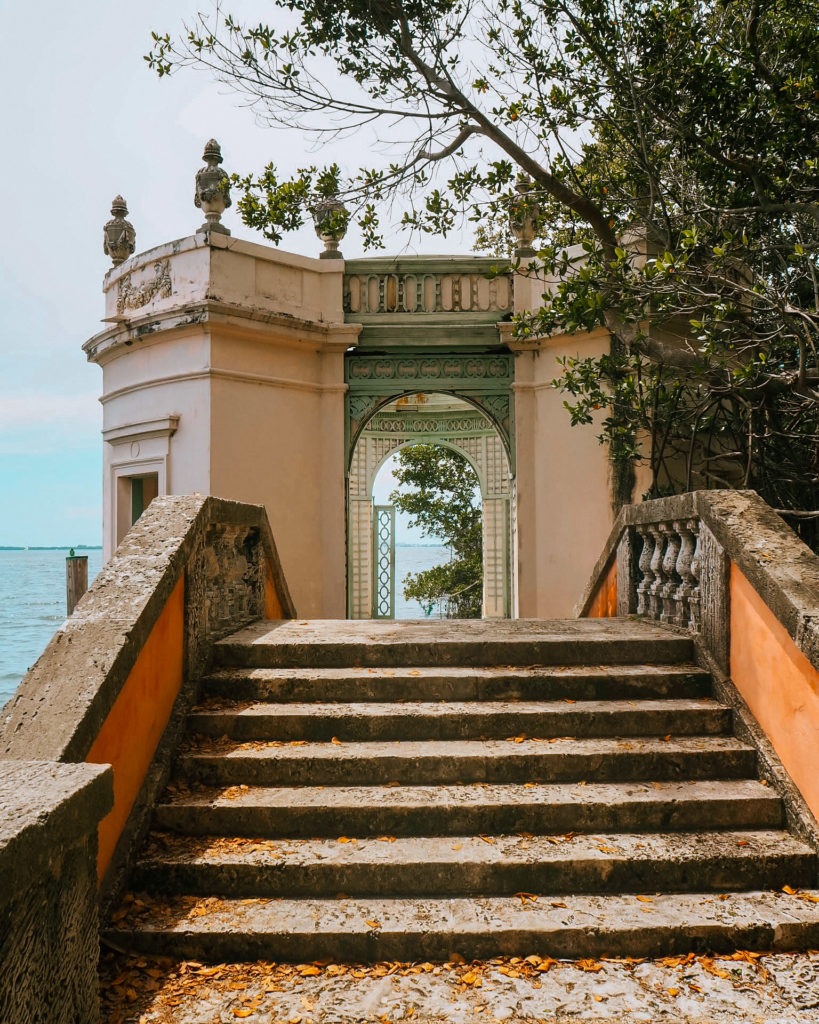 WYNWOOD
Wynwood is a vibrant and energetic arts district with way more to discover than just urban street art. As there is so much to see and experience I went more than just once to this part of the city. It was by far the highlight of my Miami trip. So of course Wynwood needs to be part of my conscious travel guide.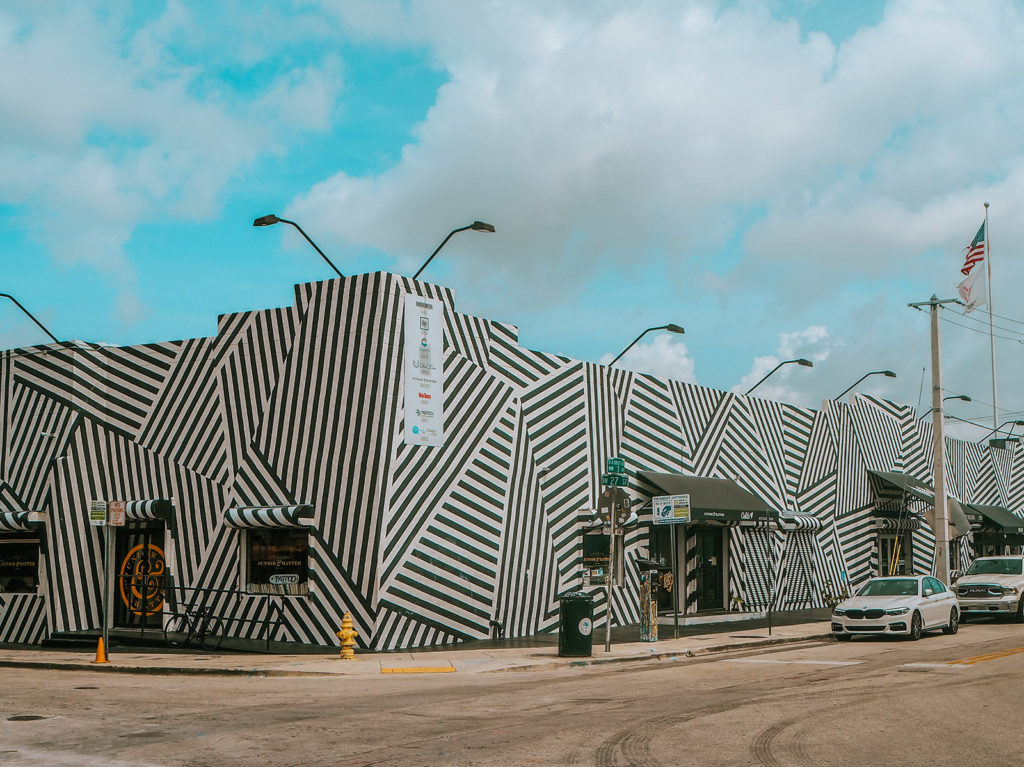 WYNWOOD WALLS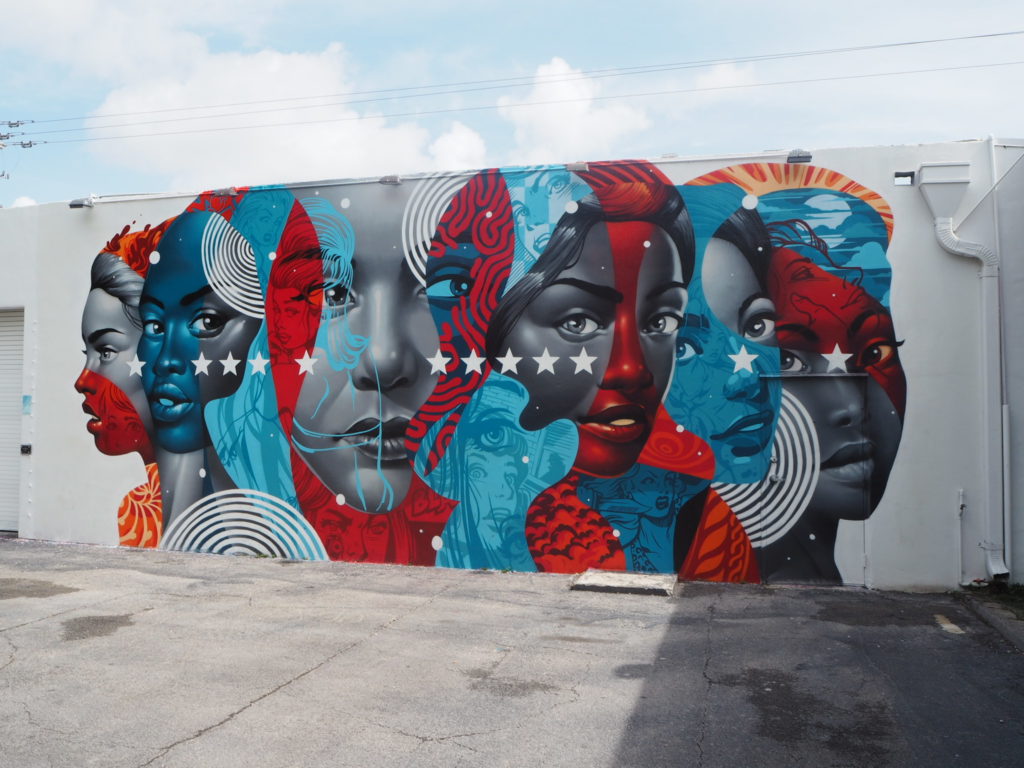 There is lots of street art all over Wynwood so you don't necessarily need to visit the urban graffiti art museum Wynwood Walls but you would miss out on a unique attraction. The museum is free so no need to think twice. Like Vizcaya, the Wynwood Walls are a huge tourist attraction. Most parts of the museum are outdoors and you'll be greeted by many stunning murals. And againbring your camera!! If you want some space to take a closer look at the graffitis and maybe even take pictures, go early in the morning. We went right after they opened up in the morning. Even then the museum was well attended but we could avoid the huge crowds.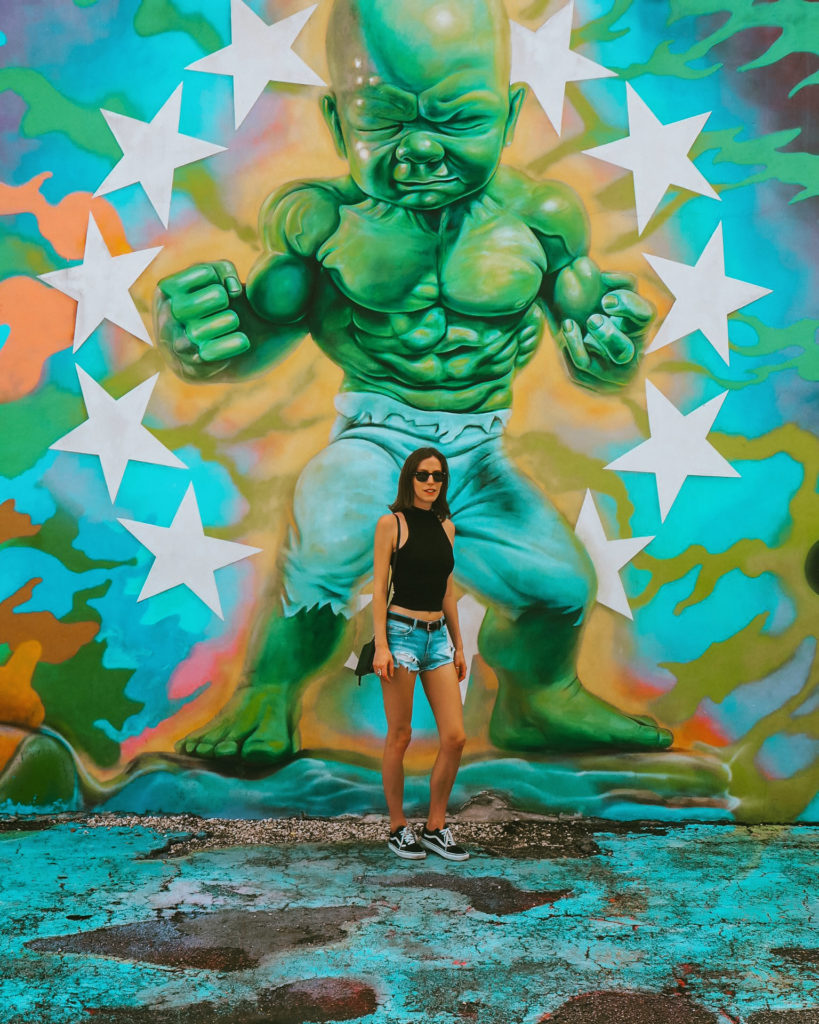 PANTHER COFFEE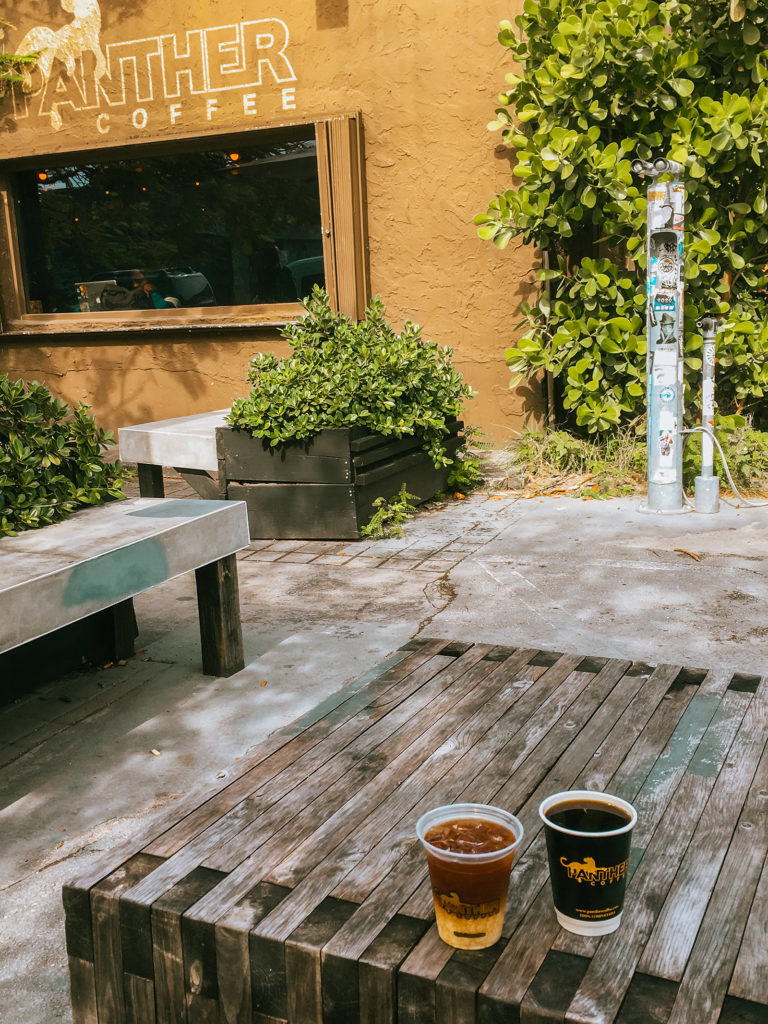 Before we headed over to the Wynwood Walls we went to grab a coffee first. Panther Coffee, a Miami based company, is located right around the corner of the museum. The place is stylish yet totally down to earth which was perfect for a quick cup of coffee. They offer a very wide range of milk alternatives and coffee blends. To try something new, I ordered an iced latte with macadamia milk – so delicious! We even ended up buying some of their beans as souvenirs for friends and coffee lovers at home.
PLANT THE FUTURE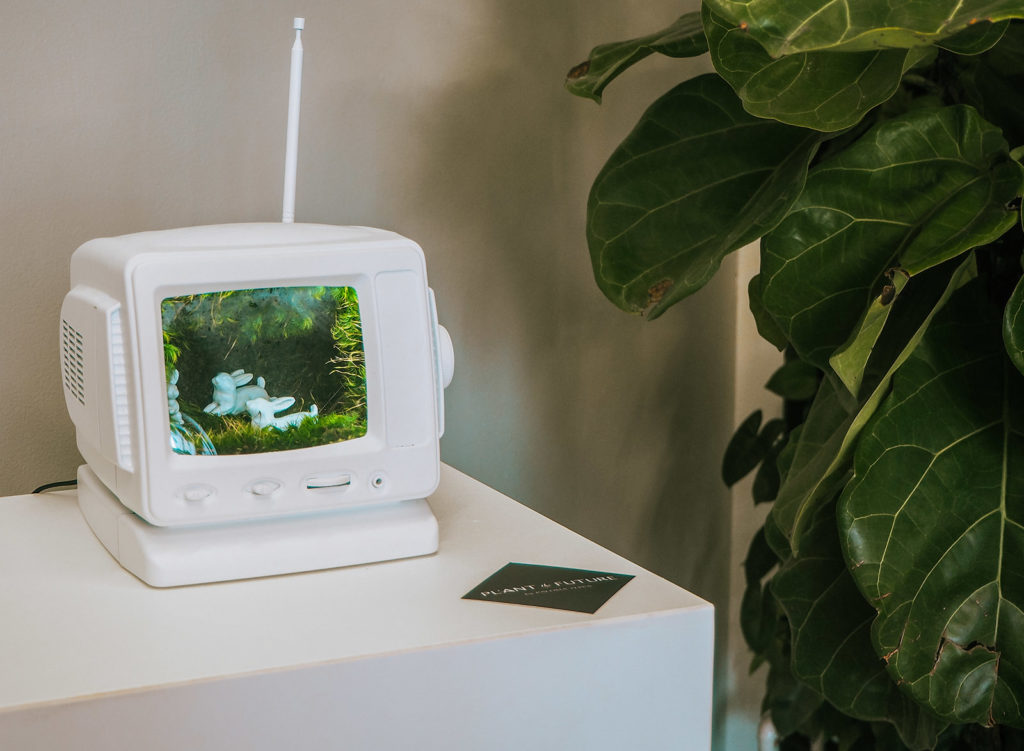 Plant lover or not, this store is mindblowing and full of unusual art. Whoever thought plants are just green and boring will be proven wrong as soon as they're entering the store. Plant the Future is filled with creative and unique living(!)-plant arrangements. From blooming cacti to moss art, unlike flowers the plants you'll find in this store will decorate your place way longer than just a few days.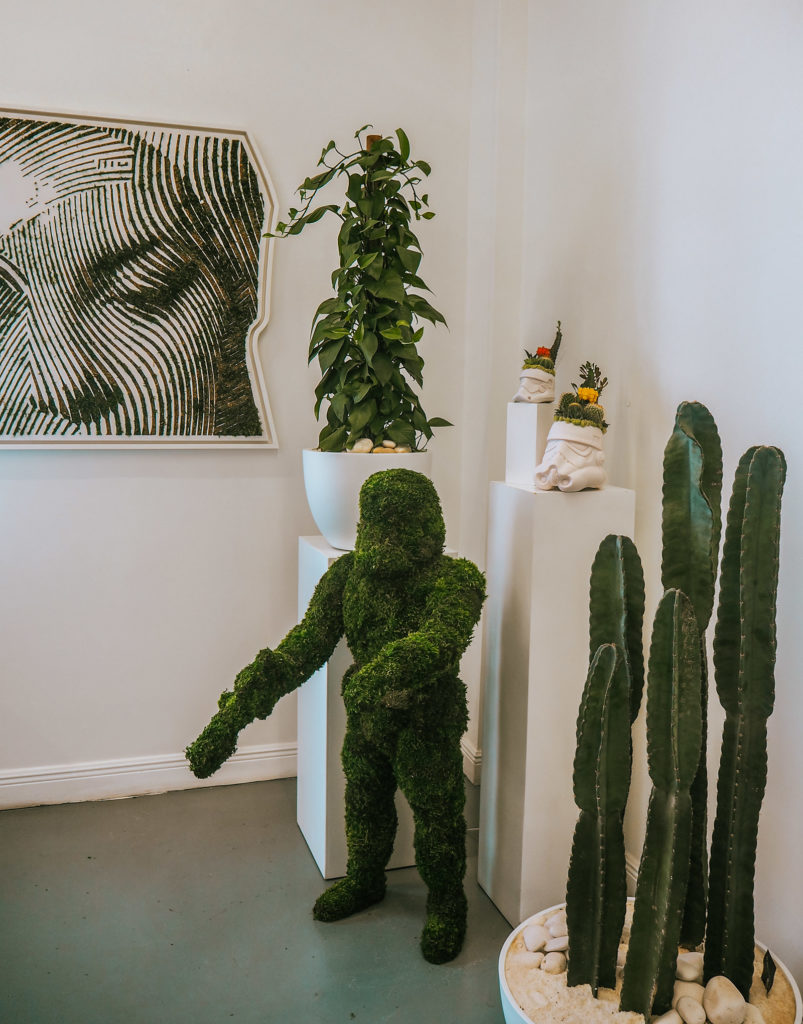 NOMAD TRIBE – SHOP CONSCIOUS CLOTHING
To me, traveling consciously also means making conscious decisions about how and where I spend my money. Eating plant-based is only one part of it and I undeniably do like to go shopping for clothes when I am in the US. Once I stopped eating meat and some time later animal produce in general, finding ethical alternatives to common fast fashion became inevitable and after some adjusting, even fun. While Miami might not be a mecca for fair fashion shopping, you sure can find a few very decent second hand stores and conscious clothing brands such as Nomad Tribe. The store, dedicated to creating sustainable clothes, is based in Wynwood as well.
SOUTH BEACH & KEY BISCAYNE
Crystal clear turquoise water, white sands and palmtrees to spend some much needed shade. Miami is well known for its beautiful caribbean beaches and you shouldn't miss out on at least one relaxing beach day. If you're looking for the typical Miami experience, with the famous painted lifeguard towers, art deco buildings along the boardwalk and some party vibes around you, head over to South Beach. I did enjoy the architecture a lot and the colorful lifeguard towers are a pretty detail too. South Beach was super crowded though and a lot of the bars and restaurants on the beach boardwalk felt rather tacky. We didn't stay very long and might have just missed out on a lot of the cool stuff around there though.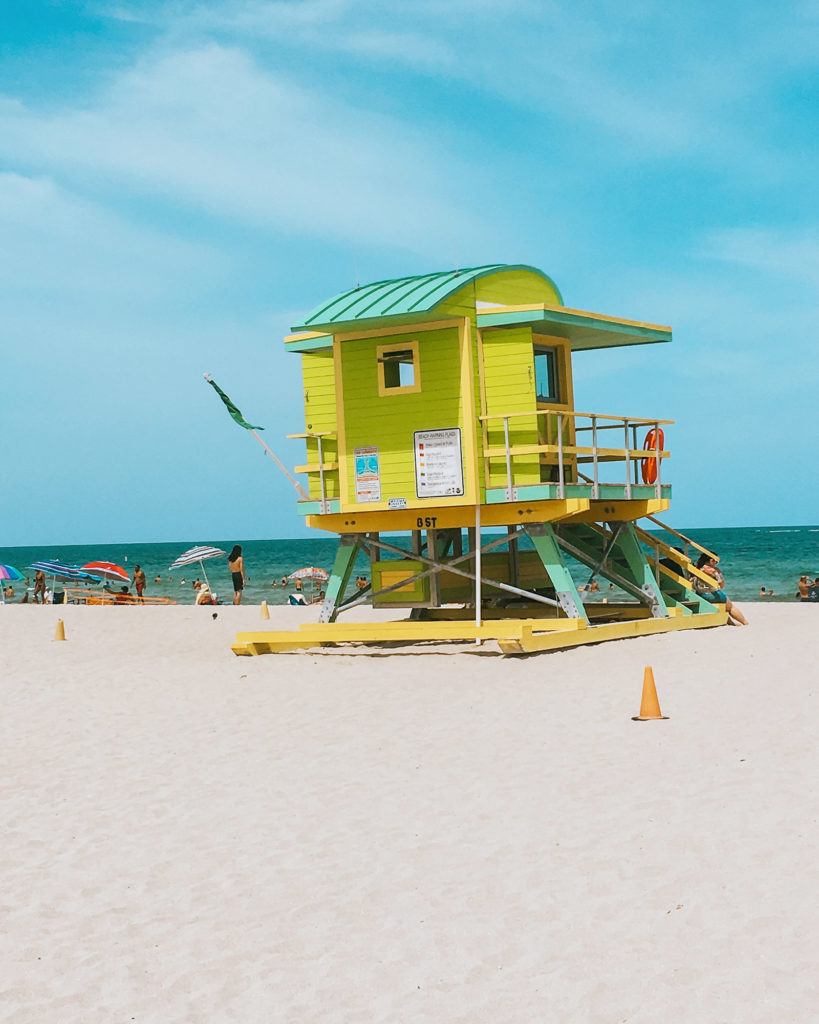 For a beach day to relax and just chill in the sun, I was looking for something more quiet. As recommended by my hosts I decided to go to Key Biscayne and was greeted by amazing views and laid-back vibes. So here I found exactly what I was looking for.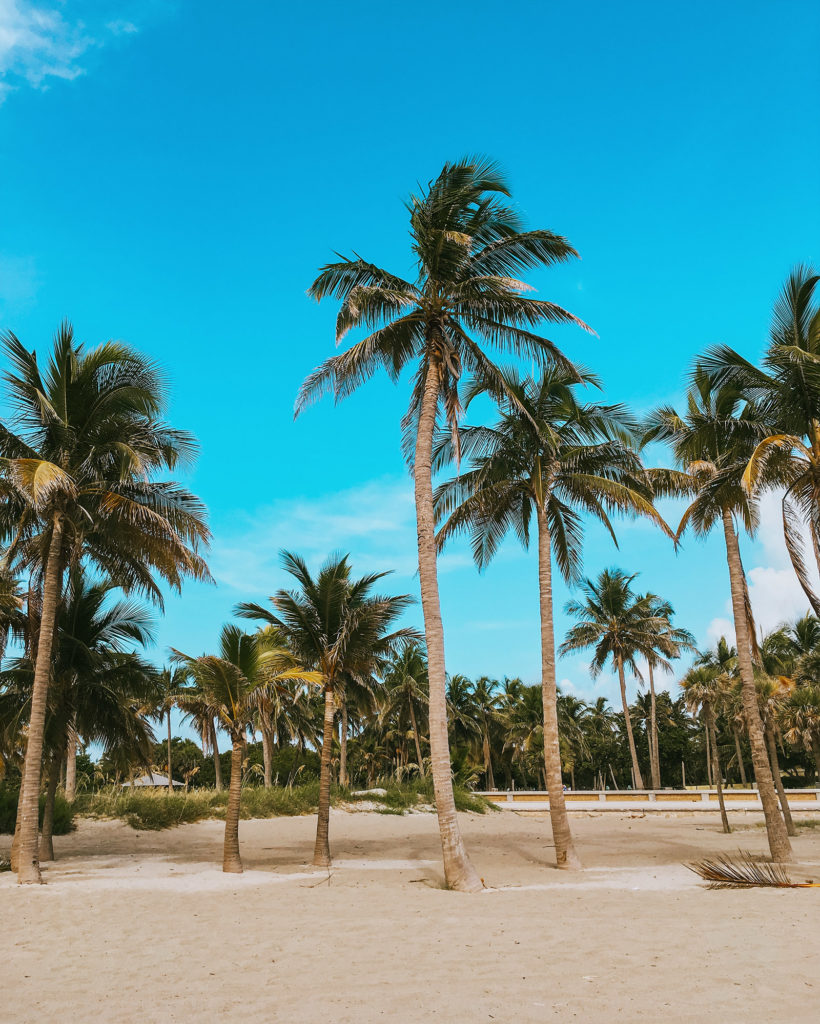 I hope you enjoyed this Conscious Travel Guide to Miami and maybe even found a few things to add to your bucket list! For more conscious travel inspiration, check out my eco-friendly shopping guide to Los Angeles here.