Beautiful beaches and a vibrant city life surrounded by palm trees and endless sunshine – there are many reasons why I love Los Angeles so much. Eating entirely plant-based can be quite difficult sometimes, not if you're in Los Angeles though. There are so many delicious vegan food spots the real challenge lies in deciding where to go first. Check out the vegan food guide to Los Angeles and discover where to grab the most delicious plant-based menus.
Don't know where to find yummy plant-based food in SoCal? Check out this vegan food guide to Los Angeles with the best places to enjoy vegan meals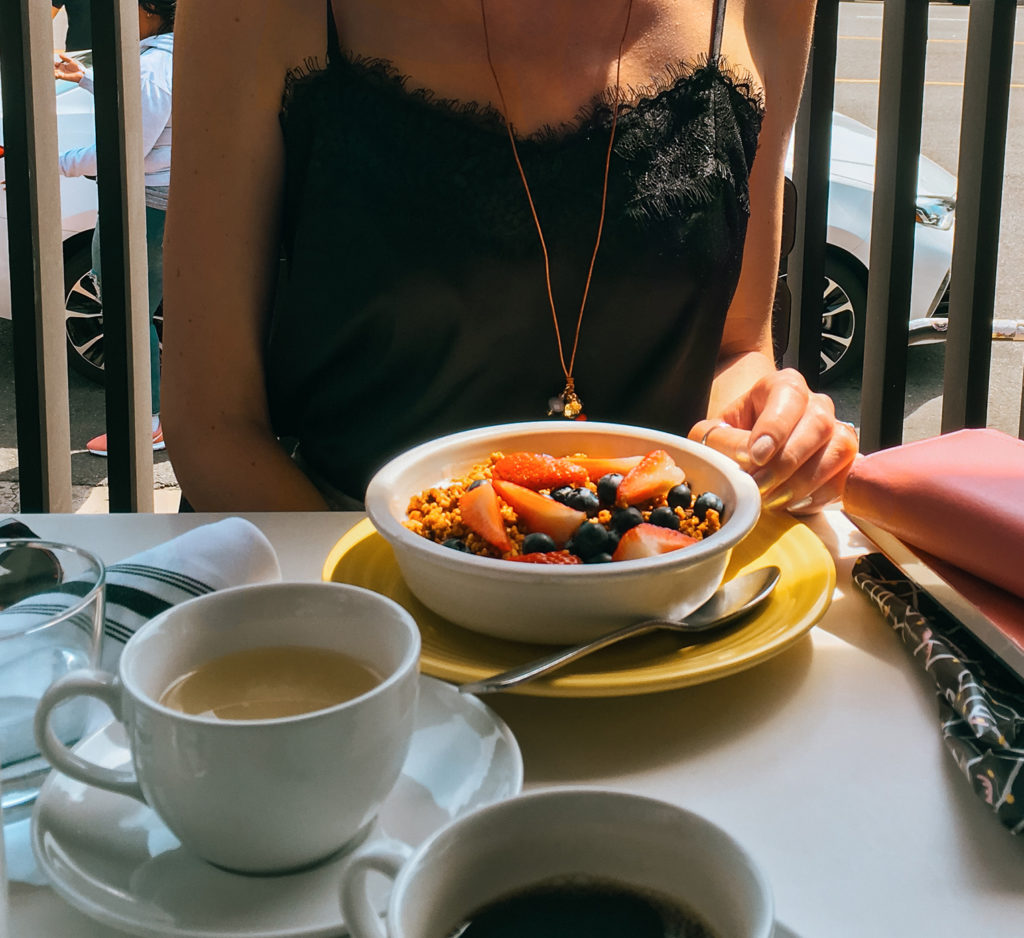 Cafe Gratitude is a stylish, yet pretty cozy place to grab tasty and fresh vegan meals. From breakfast to lunch and dinner, their menu is entirely vegan with gluten-free options.
There are three loctations in LA, one in San Diego and there's a new one opening up in Newport Beach in november.
We went to the place on Larchmont Blvd. for breakfast and it was delicious. The servings aren't huge but the quality of the food is amazing.
Following the 'Gratitude-Theme' the atmosphere inside the Cafe is super positive and laid back, with its pretty furniture, friendly staff and creative menu.
We found this cute spot by accident while exploring Echo Park and had one of the best breakfast experiences ever. Entering with the Beach Boys' 'god only knows' sounding from the speakers we were greated super friendly by the staff and immediately felt welcome.
Even though the menu isn't entirely vegan you get many plant-based options. All the ingredients are organic, gluten-free, fresh and flavorful. The pancakes were simply perfect and so was the granola bowl with fruits, nuts and whipped cream I ordered.
The place is rather tiny with only a few tables but we had no trouble finding a spot. I really love the vibe of this place. While it looks rather basic on the outside, the atmosphere inside is like stepping into a bohemian dream. Folky music, super friendly staff and thoughtful interior that's hip but not too hipster.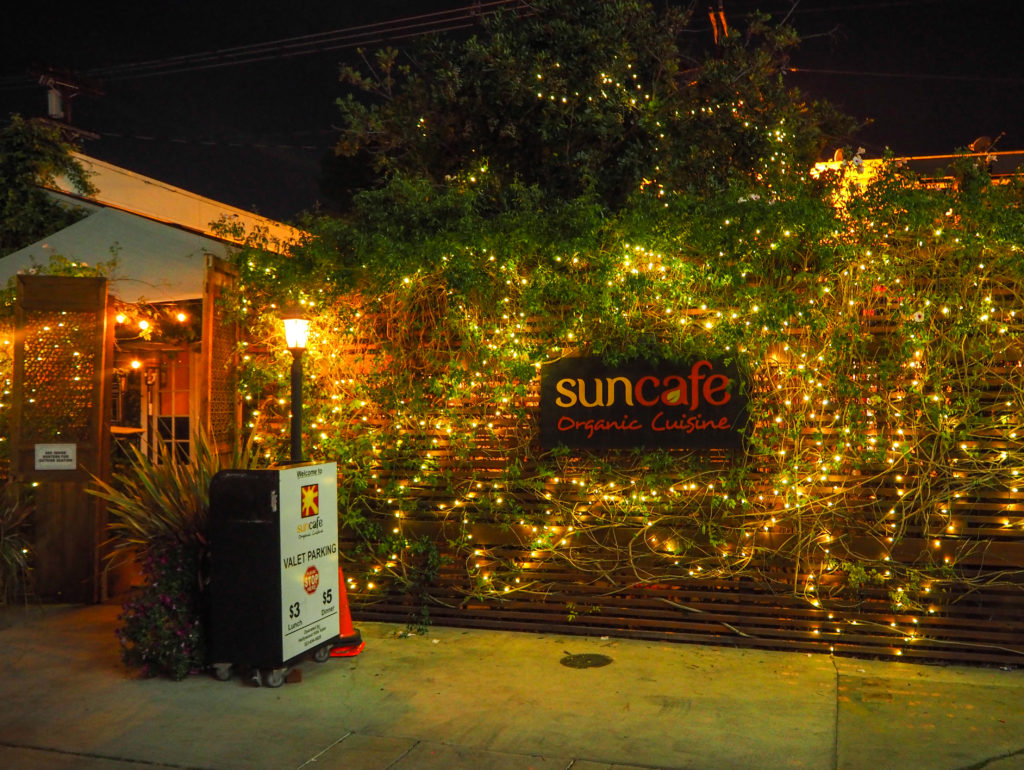 Located on Ventura Blvd. SunCafe is the perfect place to visit whenever you're in the mood for a romantic dine out with great quality food. The atmosphere is so cozy with all the lights and that wonderful patio outside.
Entirely organic and plant-based the menu offers a great variety of international cuisines. You can totally taste that the meals are made from scratch with fresh and tasteful ingredients. Even the selecion of drinks is huge and they taste just heavenly. I can't wait to be back.
Even though the place was super crowded on a sunday afternoon we comfortably spent several hours on Urth Caffe's patio in Pasadena enjoying their delicious vegan lunch and later coffee and cake specialties. While the overall appearance is rather casual (though the building in Old Pasadena is beautiful) the variety and quality of the food is absolutely fantastic. It is hard to pick what to order, so you better visit more than just once.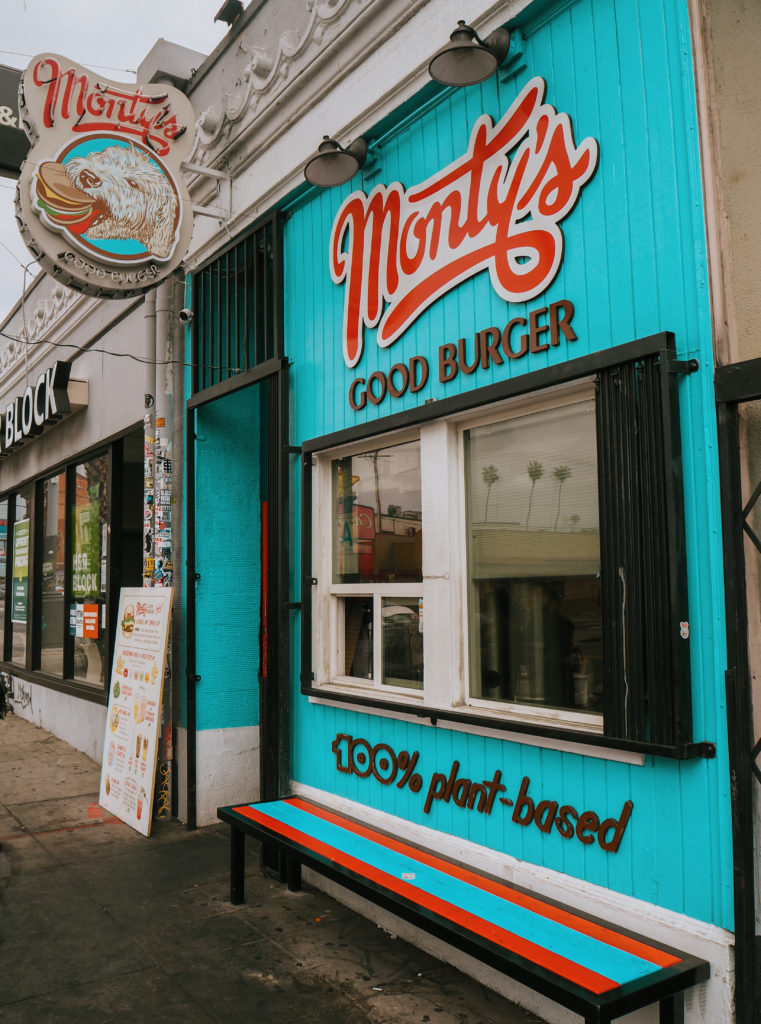 I already talked about this place quite a lot, simply because this is the best vegan fast food I ever had. We spent quite a while driving through town and had to wait in line a couple minutes before we finally got inside and enjoyed 'Monty's Good Burger' and Tater Tots. So worth the effort. The whole menu is 100% plant-based and tastes super fresh and delicious. With those Burger Patties I really don't know who still needs meat. Since our last visit in april 2019 Monty's opened up three more locations in Los Angeles, so it gets way easier to grab one of their tasty menus. Their first location in Koreatown is a really small but very cute, iconic place. Make sure to check it out!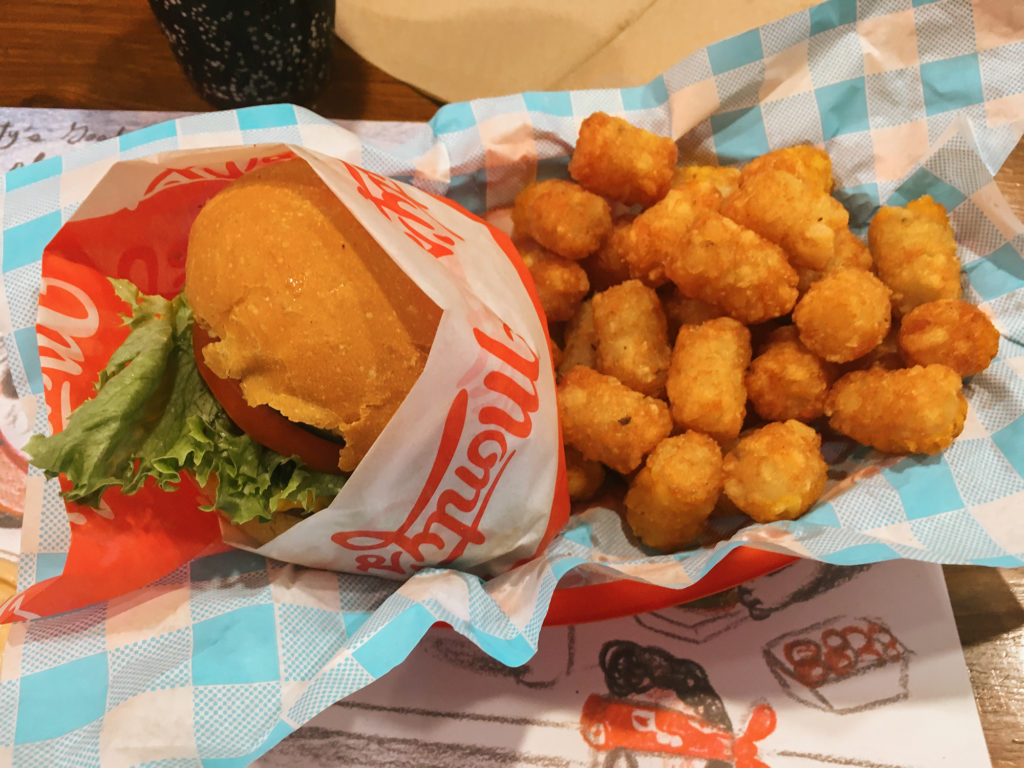 You see, finding amazing vegan food in Los Angeles, definitely isn't hard at all. Writing about all those amazing restaurants I wish I could visit all of them more frequently. Not only do they serve good quality food they all support ethics and values that are worth supporting. All these restaurants prove that it is possible to eat plant-based food that's not only delicious but also healthy for you and the planet as it is sustainable and cruelty-free.